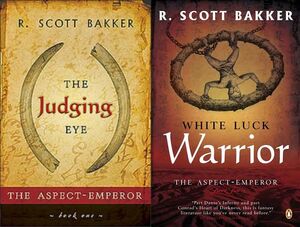 The Aspect-Emperor is an epic fantasy series of novels written by Canadian author R. Scott Bakker, the second of three series that make up The Second Apocalypse cycle. It is a sequel to The Prince of Nothing trilogy and will be followed by another final series (either a trilogy or a duology) named The No-God.
The events of The Aspect-Emperor take place twenty years after the conclusion of The Prince of Nothing trilogy. Anasûrimbor Kellhus now rules the entirety of the Three Seas as Aspect-Emperor, and leads all of the nations of the Three Seas on a Holy War against Golgotterath and the Consult, the Great Ordeal. Drusas Achamian, the former Mandate Schoolman and tutor of Anasûrimbor Kellhus, is now the only Wizard in Eärwa as he begins his own campaign across the Ancient North in hopes of finding the birthplace of the Aspect-Emperor. Meanwhile, in Momemn, Esmenet struggles to keep control of the New Empire in her husband's absence.
Publication history
[
]
The first book, The Judging Eye, was released on January 20, 2009 by Penguin Canada.[1] The second book, The White-Luck Warrior, was published in April 2011 in Canada,[2] and in May 2011 in the UK by Orbit Books and in the US by The Overlook Press.[3] The planned title of the second book was originally The Shortest Path,[4] however, Bakker later confirmed that it would be called The White-Luck Warrior.[5]
The planned title of the third book was originally The Horns of Golgotterath, but is currently The Unholy Consult.[6] The first draft was completed on October 1, 2013[7] and the book was released in 2016. Bakker has said that due to the manuscript's length, The Unholy Consult would be split into two volumes; The Great Ordeal and The Unholy Consult.
The fourth title, The Unholy Consult, was released in the US & Canada on July 25, 2017 by The Overlook Press, and in the UK on July 6, 2017 by Orbit Books.
References
[
]
This page uses content from the English Wikipedia. The original content was at The Aspect-Emperor. The list of authors can be seen in the page history of The Aspect-Emperor. As with The Prince of Nothing Wiki, the content of Wikipedia is available under the Creative Commons Attribution-ShareAlike License.